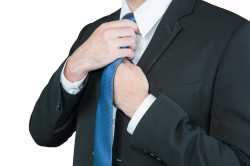 If your RFP response document isn't as polished as your first interview attire, would you hire you? Your response document makes a big impression. You are presenting your company and all it's qualifications. This response document may be your client's first introduction to your proposed solution.

An RFP template helps you "dress" your response documents for success. Let's break this down.
An RFP template contains your standard title page, cover letter and/or executive summary. These elements are your first impression--like your coat and hat. The title of your cover page should capture your client's attention. The cover letter should let them know that you not only understand the problem, you offer a solution.