To give your proposal a competitive edge, be compliant and responsive in answering your client's RFP and proposal questions — and then include a SOLUTION DESCRIPTION THAT WINS!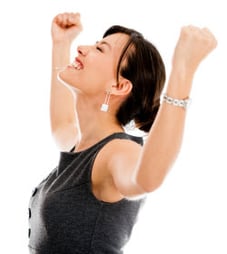 How many times has someone on your team directed you to just include your product description or fact sheet? Your client will know that it is just the standard product description. They might read it again. Remember, they probably downloaded the PDF from your web site, or sales delivered it as an email attachment. Since the client has already reviewed it, the standard product description does not add value to your proposal.

When responding to RFPs or delivering a sales proposal, a customer-focused solution description is the right way to provide your client with the information that they need to select your offering.

Why You Need to Prepare Solution Descriptions
Here are three reasons why we recommend that you include a customer-focused solution description in your RFP responses and sales proposals.
RFP questionnaires ask many good questions, but frequently they do not directly ask for the critical information that helps your client understand your value proposition. For example, perhaps your client has not asked about the implementation process or customer support services for which your organization offers a competitive solution. By including a solution description, you can educate your client, as well as plant the discriminators that set your proposal apart from the competition.
Your client has asked questions in an order that may not help proposal reviewers experience your solution in a logical order.

A solution description section provides the vehicle through which you can present all solution components and benefits

—

in the logical order that best guides the reviewers through your offering.
Clients frequently invite you to include additional supportive product information.

With a solution description tailored to the client's specific needs, you can demonstrate to the client that your organization is best prepared to deliver the solution that they seek.
Where to Start
To ensure your client's success, your solution may include multiple components including products, services, delivery capabilities, implementation and ongoing support. Present your solution in terms of your client's vision and the benefits that your solution offers.
For best practices to help clients select your proposals, please view our recorded SalesEdge Advantage Webinar: Solution Descriptions that Enlighten and Engage. In this 45 minute webinar, you can learn proposal best practices that will help you provide your clients with the information they need to know.
Editor's Note: This article is part 1 in a 2 part series. Click 5 Ways to Write a Winning Solution Description for Sales Proposals to read part 2.