When delivering a sales proposal, the right solution description will ensure that your client receives the right information needed to understand your value proposition—and to select you as their vendor.
Take a Critical Look ... from the Client's Perspective
Clear your calendar for an hour—and take a critical look at the solution description your team last submitted within a sales proposal. Review the description from the client's perspective.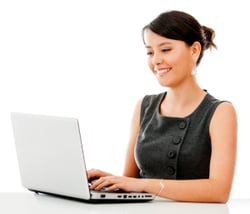 What could the client learn from this solution description?

Did it strengthen the proposal?

Did it effectively demonstrate how you can help the client achieve its goals or solve their stated problems?

Did the description bring all of your solution components together with clarity for the client?
Write a Winning Solution Description
Here are 5 best practices to ensure the delivery of a winning solution description in your next sales proposal.
1. Be consistent and complementary throughout your proposal
The information and messaging conveyed in the solution description should complement and strengthen the information provided in other sections of your proposal.

For example, your proposal's executive summary introduces your solution in terms of your client's vision and the potential benefits that your solution offers. The solution description section complements and expands the executive summary's introduction with more information.

If you are responding to a questionnaire, perhaps an RFP or RFI, you can reference the solution section in the more concise and focused responses to specific questions. The solution description provides an opportunity for you to strengthen and expound upon your answers with a more holistic solution explanation.
2. Present all components as a cohesive solution
Your solution may include multiple products, services, delivery capabilities, and ongoing support—whatever you are offering your client to help ensure their success. The solution description provides an opportunity to logically present all components—and help the client understand how your solution will address their needs and meet their goals.
3. Don't inundate. Provide the right amount of information
When presenting the solution and its supporting components, you want to provide information without overwhelming detail. The length of your solution description will depend upon the complexity of your solution—perhaps 1 to 2 pages for each product and service component. Use graphics and illustrations to reduce word count and more succinctly convey information. Use headers, subheadings, and bullets to organize information.
If detail is requested or is appropriate, provide this in the suitable proposal sections. For example, detail may be provided in an appendix, in technical sections, and through links to embedded or online resources.
4. Tailor to the client's needs
Present your solution in terms of your client's vision and the benefits that your solution offers. Ditch the jargon, the fluff, the information about products, services, features and benefits that are not relevant to your client's objectives.
5. Make is easy to read and understand
As with all proposal content, create a solution description that makes it easy to read and understand. Craft your content and then apply your proposal branding standards for:
Section headers and paragraph headers

Bullets and numbering

Compelling images—with explanatory captions where appropriate

Sidebars for callouts providing compelling customer quotes and return on investment results

Effective use of space to make the document easy to read
The page design of your solution description should complement the proposal or RFP response document. Do not slap in sell sheets and other glossies—and expect them to serve as a solution description. You may be able to repurpose information that you provide in the glossies, but don't make this important proposal section looked like a hurried afterthought. That said, if your client requests marketing collateral, this is typically provided in an appendix.
Watch Recorded Webinar
For best practices on how to write a solution descriptions that help your proposals win, be sure to view our recorded Solution Descriptions that Enlighten and Engage webinar. In this 45 minute recorded webinar, you can learn proposal best practices to help you write solution descriptions that will help you deliver the information that your clients need to know.
Deliver Winning Solution Descriptions that Enlighten and Engage
At SalesEdge, we help our customers make it easy to include solution descriptions that follow all five best practices for a winning solution description. Using proposal automation technology, solution descriptions can be personalized with CRM system-driven information and customized to include the right information for each client. Connect with SalesEdge to see the benefits of an automated RFP response or sales proposal.
Editors Note: This article is part 2 in two-part series. Click Replace the Product Description with a Tailored Solution Description to read part 1.