An easy way to determine if your RFP response will be compelling to a client is to put it through the "so what" test.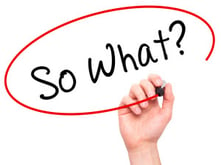 The "so what" test is easy to understand. Here's an example of how it works. Let's say you're hosting your in-laws for dinner and the toilet in your bathroom is not working! You need to find a plumber. Do you care about the plumber's certifications, training and industrial plumbing experience – or do you care that he can fix your toilet? You'd probably say "so what" to the certificates, training and unrelated experience. What compels you to hire the plumber is the benefit you will receive – a working toilet before your guests arrive.
What Does Your RFP Response Convey?
Let's apply the "so what" test to your RFP response. Are you writing about your company, or about the solution that your client seeks?
Years of experience – so what? That you have solved similar problems for others in the past will be more compelling to your client.

Your team's higher education credentials –so what? That your team has the expertise to deliver a solution that is in alignment with the client's problem will resonate more.

You offer 47 locations worldwide – so what? Unless the client benefits from the multiple worldwide locations, your ability to deliver a solution on time and on budget is probably of greater importance.

Your product offers many cool features and functions – so what? The cool features and functions are only significant if you demonstrate how they can specifically solve your client's needs and requirements.
Apply the "So What" Test to Your RFP Response
Read your RFP responses thoroughly and ask "so what?" Don't deliver responses that may cause your clients or prospects to say "so what?" The client doesn't want to read about the year your organization was founded, they want to know that understand their problem, and that you know how to solve it . Paint a picture of the outcome and provide proof in the form of the unique approach or solutions you have provided for others.
A compelling RFP response shows your client a vision of the results they can achieve. To learn more about writing RFP responses, please view our recorded webinar: Best Practices for Writing RFP Responses. Capture all your compelling responses in an RFP database. Be prepared to deliver many proposals that consistently pass the "so what" test!