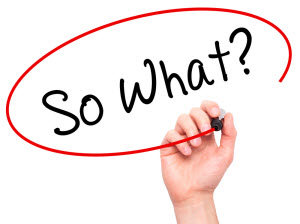 An easy way to determine if your RFP response will be compelling to a client is to put it through the "so what" test.
The "so what" test is easy to understand. Here's an example of how it works. Let's say you're hosting your in-laws for dinner and the toilet in your bathroom is not working! You need to find a plumber. Do you care about the plumber's certifications, training and industrial plumbing experience – or do you care that he can fix your toilet? You'd probably say "so what" to the certificates, training and unrelated experience. What compels you to hire the plumber is the benefit you will receive – a working toilet before your guests arrive.
What Does Your RFP Response Convey?
Let's apply the "so what" test to your RFP response. Are you writing about your company, or about the solution that your client seeks?
Years of experience – so what? That you have solved similar problems for others in the past will be more compelling to your client.