When tasked with the responsibility of building or maintaining an RFP database—we understand the opportunity, as well as what's at stake.

True, the RFP database typically stores (think, warehouse) answers to frequently asked questions—and helps proposal writers get RFP responses and sales proposals out the door faster. Sounds elementary, right?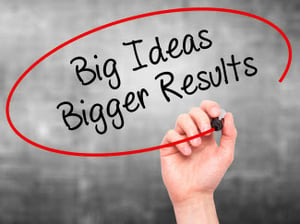 But if you don't see the bigger picture, or if your management does not appreciate the opportunity, then your organization is missing a valuable corporate asset that others, including your competitors, strategically use to win more business.

When investing resources to create a dynamic RFP database, consider the bigger results associated with this corporate asset:
Bigger Results
1. More Accurately Deliver Information
By maintaining accurate and up-to-date content in a centralized repository, the information that your team delivers to customers and prospects is the right information. It's been reviewed and approved by subject matter experts, and edited by content owners. The team consistently delivers sales- and proposal-ready information.
2.Promptly Respond to Information Requests
A searchable library of ready-to-use content makes it feasible to accelerate the response to customers and prospects. Time is always of the essence. Your prompt response is a positive reflection on your organization and the solution you offer.
3. Increase Organization Productivity
Managing content in a centralized repository results in time-savings throughout the organization. Content managers have the technology and processes to efficiently manage content. Subject matter experts spend less repetitive time providing expertise for individual opportunities. Sales team members spend less time collecting information from others and writing for each opportunity—with easy access to the right information. Onboarding for new team members is accelerated. With on demand, searchable access to information, new team members can more quickly become productive contributors.
4. Strengthen Your Brand
Content writers ensure that content includes the correct messaging and branding format. By consistently delivering your defined brand to customers and prospects, you strengthen the customer's experience with your brand. Customers and prospects have increased confidence in the quality of your offered solution.
5. Accelerate Strategic Initiatives
The challenge of mergers & acquisitions, the roll-out of new products, new sales strategies, and rebranding projects, is the timely and accessible distribution of the information to the extended team. Making the RFP database the familiar "go-to" source for information, facilitates strategic initiatives by making it easy for all team members to access the information that they need to perform and contribute to the initiative.
The Opportunity
Today's resource may be a collection of past proposals, semi-static Word documents or Excel workbooks with a snapshot of a recent answer, and a flurry of long-threaded email messages to and from subject manager experts throughout the organization.
Tomorrow's RFP database is a corporate asset, worthy of celebration at the annual sales meeting and mention at the company's board meeting. The opportunity at hand for you is to become the celebrated team member responsible for making the RFP database into a corporate asset.
The SalesEdge team helps our customers turn RFP databases into a corporate asset. We are prepared to help you succeed by providing the technology, best practices, training and services.