The proposal executive summary may be your client's first experience with your proposal—and one that hopefully inspires them to read on. A well-organized and visually appealing executive summary format makes it easy for your client to read and understand your solution and its' benefits to them.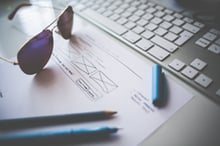 Looking for an easy-to-follow executive summary format? Read on. We've outlined a format that makes it easy for you to implement—and more importantly, easy for your client's proposal reviewers to read and understand the value that your proposal offers.
A Well-Organized Format
Once you have identified the critical sales strategy and defined the customer focused messaging for your proposal—we recommend that you start to draft the executive summary with an outline. Your 2 to 3 page executive summary should follow a well-organized format. For example, you may incorporate the following sections:
Introduction.

Open with an introduction that summarizes your client's goals and introduces your solution.

Current Situation and Objectives.

Follow with a section that summarizes your client's current situation and objectives. List the client's highest level objectives, needs or problems. Describe them in terms of the impact that they have on the stated goals or vision, and value that the client will realize by addressing these needs. Provide this information in the order of your client's priority—with the most important objective listed first.

Solution Introduction.

Next, introduce your solution in terms of your client's goals and the potential benefits that your solution offers. Where possible, use images and graphics to help convey the potential results. Remember, your solution may include products, services, delivery capabilities, and ongoing support—whatever it is that you are offering your client to help ensure their success.

Investment or the Value Proposition.

Dependent upon your industry's practices, you may or may not include information for the total investment that the client needs to make—with supporting detail provided in the financial section. You can also outline your value proposition for the client including anticipated return on investment (ROI) based upon the results achieved by other customers.

Conclusion.

Finally, provide a conclusion that summarizes how your solution will help your client successfully achieve their goals and the next steps to guide your client through their buying process.
Visually Appealing & Easy to Read
As with all proposal content, you need to design the executive summary for readability and visual appeal. Craft your messaging and then take advantage of the following throughout the document:
Section headers, and where appropriate, paragraph headers
Bullets and numbering
Compelling images—with explanatory captions where appropriate
Effective use of space to make the document easy to read
Remember to remain customer-focused. Section headers, paragraph headers, selected images and captions should all deliver or complement the customer-focused message that has been crafted for your client.

Learn More Best Practices
For more best practices, be sure to view our recorded SalesEdge Advantage Webinar: Captivating Cover Letters & Compelling Executive Summaries. In this 60 minute recorded webinar, we help you understand how you can create compelling introductions that resonate with your client's proposal reviewers and high-level decision makers.
Be Compelling Every Time
You can ensure the delivery of a compelling introduction to all your proposals using an executive summary template that is automated by RFP software or proposal software. At SalesEdge, we help our customers increase productivity and sales effectiveness by automating the introductory proposal sections as part of the RFP response or sales proposal process. Connect with SalesEdge to see the benefits of an automated RFP response or sales proposal template. Request a demonstration!
Editor's Note: This article is part 3 of a 3 part series. You may also want to read the first post and second post in this series.