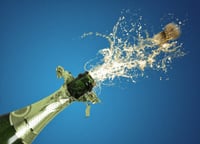 Pop the champagne! At SalesEdge, we celebrate the individual and organizational success that our clients achieve using RFP response and proposal automation solutions.
Forbes Magazine has taken note of this SalesEdge success—giving us more reason to celebrate! Kym Harrington, our president and CEO, is recognized by Forbes as a top Women Business Leader in New England.
As our leader, Kym Harrington provides the organizational direction, as well as empowering guidance that enables the extended SalesEdge team to work towards our clients' success. With this Forbes recognition, we have more reason to celebrate!
If you are reading this as a client, we thank you for helping SalesEdge achieve success!
If you are seeking solutions to improve your sales performance, we hope that this Forbes recognition inspires you to engage with SalesEdge!